LIVE COMEDY BABY!
*** UPDATE!!! ***
BOTH SHOWS NOW SOLD OUT!
Thank you! We'll see you tonight!
To these attending – some seats will be in rows, but most at tables. Doors open at 6.30pm for the early show and 8.50pm for the late show, and it's first in best seated!
Any queries get in touch at info@ballaratcat.com.au
****
Our first show sold out in less than two days, so we've added another show! The start times are 7pm and 9pm.
Existing ticket purchasers – please check your email for a notification and get in touch with us if you have any questions.
If you were yet to purchase tickets, stay tuned, the new ones will go on sale over the weekend.
THANK YOU!
******
We're back for 2021 with Australia's most famous purple person – RANDY FELTFACE!
TICKETS ARE LIMITED AND WILL GO FAST. GRAB THEM HERE.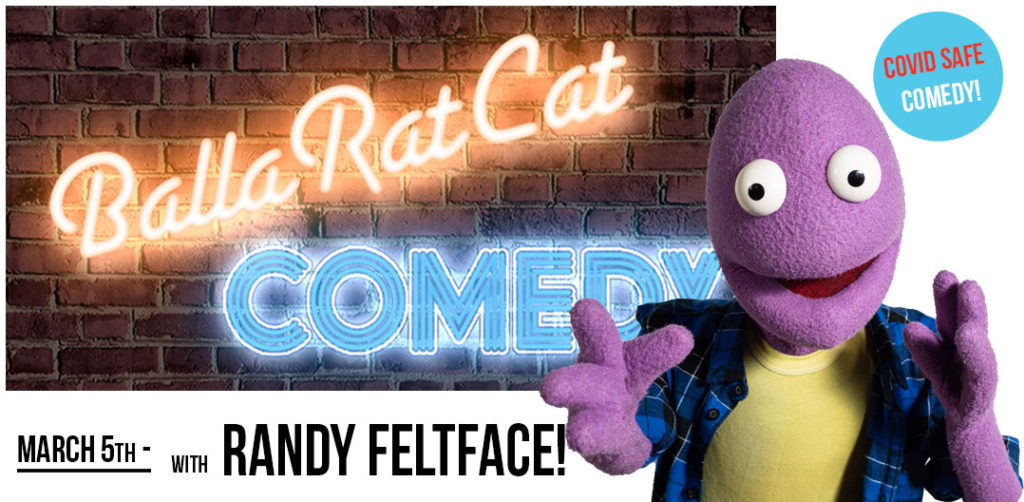 COVID SAFE COMEDY!
We're pulling out all the stops to ensure you can enjoy the show and keep safe.
Seating for this show will mostly be at tables, so we can space out groups (you must remain 1.5 metres away from people you don't know (stranger danger!)). If your group is larger than 4 people, please call the George Hotel on 5333 4866 to reserve a larger table. There will be plenty of tables for 2 or 3 available.
We'll also have a QR code you'll need to scan (for contract tracing purposes) before you can enter, and plenty of sanitiser for all.
Please bring a mask with you. You are required to wear one if you cannot socially distance. We will make every effort to see that you can, but please have a mask just in case.
If you feel unwell, please do not come to the show. Send us an email and we will organise a refund.
info@ballaratcat.com.au
We'll keep you up to date with any changes or more information, and please email us if you have any questions!