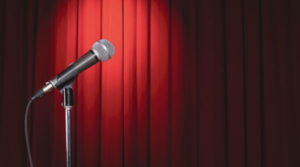 Hello… is this thing on?
We are BallaRatCat Comedy.
We are a new, regular comedy room opening at the George Hotel on July 12th. Have you been to The George lately? It's awesome, with a great venue for us to play in (The Lounge), and some excellent dining options too. But enough about them… back to us. With close links to the Melbourne comedy scene, we'll be bringing the finest and funniest to you, so you can be assured of a good night out with plenty of laughs.
No need to drive or train-it down to the big smoke for your comedy fix. Now you can see top-notch comedians every month in your home town.
Not only, but also… We are hoping to establish Ballarat's own comedy community and we'd love to hear from you. Are you interested in performing? Or learning more about the craft of stand-up? Get in touch via info@ballaratcat.com.au or have a chat to us on the night. Let's start talking. And making rude jokes.
That's it for now – go book your tickets, or check out the Acts page, or like us on facebook, or follow us on twitter! Or all of the above! Do it!
Yeah!