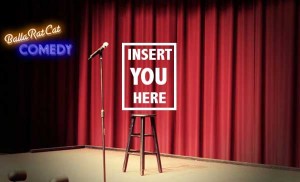 Right… here's the lowdown folks… Open Mic spots will now be available at our shows at The George! First bracket will be maximum of TWO 5-minute spots, open to all new comics, but Ballarat based funny-people are preferred.
So, here's your chance to refine your comedy stylings in front of a great crowd in an awesome room!
Get in touch with us quick-smart at info@ballaratcat.com.au to secure your place.
An open mic night with heaps more spots available will be starting up again very soon… watch this space for more information.
It's a great time to get involved if you're at all interested. 2014 will be a big year… with plans for more shows, workshops and more surprises in the works.
Could YOU be Ballarat's next big comedy talent?
Open Mic Spots at BallaRatCat Comedy
Thursdays, December 5th & 12th. Stage-time: 8pm
Please email us if you wish to perform, and please turn up before 7.30pm. Spots are strictly 5 minutes and can be any form of comedy (stand-up, music, sketch, etc)
This is an awesome opportunity to play in front of a great audience, and mix with the big names.
Please register your interest at: info@ballaratcat.com.au (or on Facebook)
See you there!